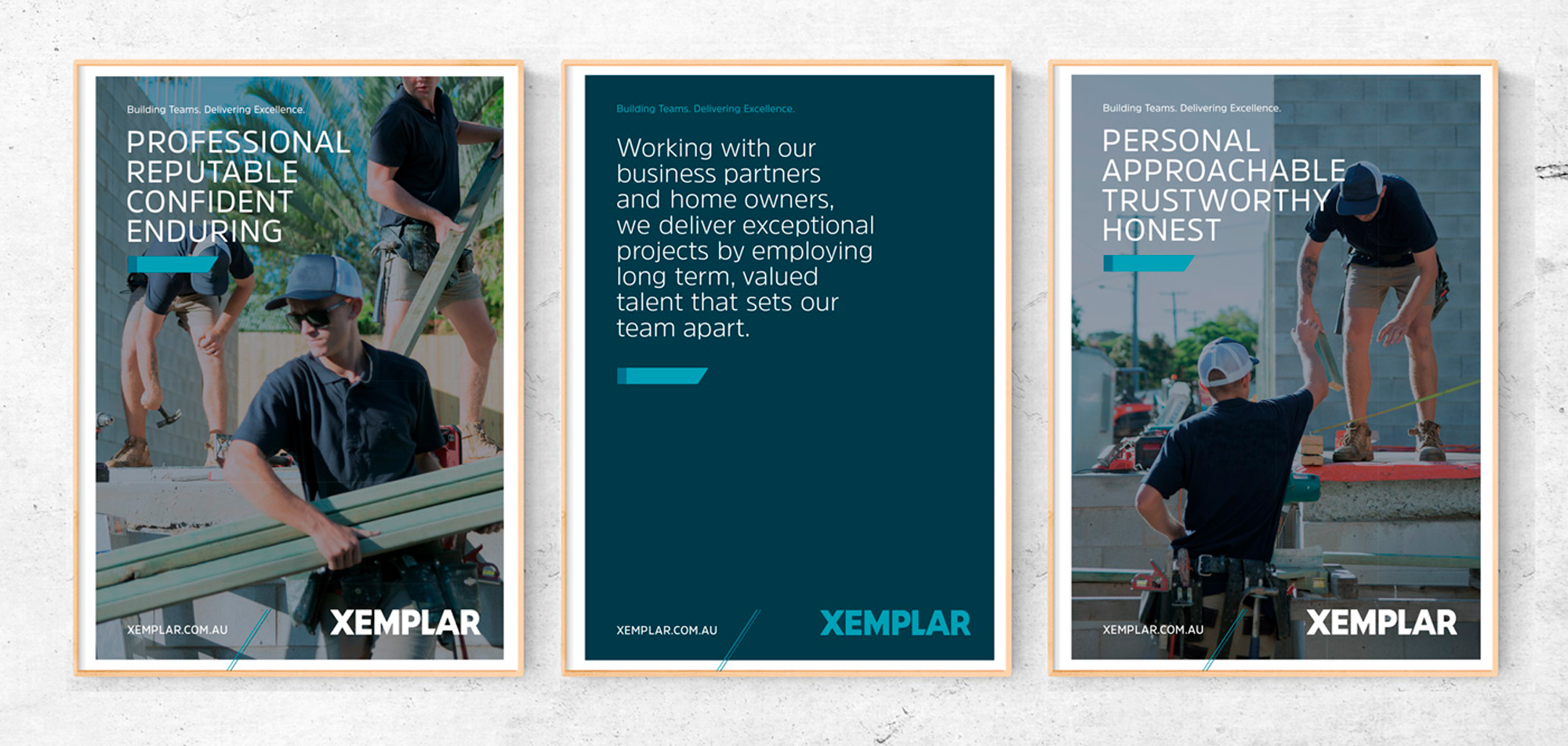 Case Study: Xemplar Constructions Rebrand
Building Teams. Delivering Excellence.
See Creative and Xemplar began working together in early 2019. Initially See Creative was engaged to make a few tweaks to the existing logo. After establishing that Xemplar were really lacking brand direction and knowing how to move forward and speak with their audience, together we embarked on brand discovery.
During the 2 half day sessions, myself, Founder, Rhys and Operations Manager, Peta, all worked through future goals and ambition, why Xemplar started, its beliefs and values. We uncovered the core customers the business wanted to connect with and identified brand personality and customer personas.
With these foundations and a brand strategy document to refer back to, we began working on rolling out the deliverables. Starting with hand crafting a refreshed logo. We then moved into the brand identity including typefaces and colours. We wanted to maintain the current connections to the brand, through the use of the blue, while refreshing and building on that to develop it further (pun intended!).
We rolled out all aspects of the brand collateral including: brand identity, stationery, style guide, social media look and feel and instagram templates, website, signage and internal documentation.
See Creative continues to consult to Xemplar for brand management.
Scope of Project
Brand Strategy
User discovery
Competitor research
Messaging and Positioning
Logo and identity design system
Stationery design
Signage
Website design and development
Social media strategy and design
Unique brand assets
Ongoing brand consultation
As an established business that was struggling for strong brand identity at the 4 year mark, I recognised the services of Delphie at See Creative and engaged her help.
Our company is run and owned by myself and my partner and although we had a clear vision of where we wanted to go, bringing Delphie in really launched a solid business plan and gave our business a strong sense of who we are and who we needed to communicate with.
Delphie interviewed our founder and through consultation was able to work with us to determine our core client base and branding which has paved the way for targeted strategy and consistent communication.
This service itself was the break through that our company needed and we couldn't have done it without her exceptional vision and communication skills.
Thank you Delphie!

Peta McLure

Operations Manager | Xemplar Constructions